Hebei Hebei Xiangma Technology Co., Ltd. (Hengxiang Engineering Material Co., Ltd) is an integrated enterprise specializing in the research and development, production, installation, maintenance and leasing of Suspended Platform and Scaffolding.
Our main products are high altitude electric suspended platforms, H frame scaffoldings, ladder scaffoldings, ring-lock scaffoldings, adjustable props and suspended platforms accessories, e. g. safety lock, hoist, electric control panel and so on.
The factory is established in 2008 and is one of the leading manufacturers of suspended platforms and scaffolding in China.We strictly abide by the ISO9001: 2000 certification to ensure our quality. Our products have obtained CE certificates.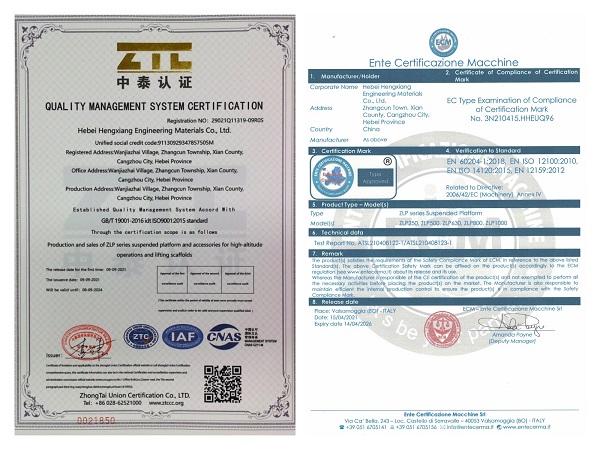 It has a standardized production plant of more than 15,000 square meters, 5 sets of large-scale machining centers, 12 Brandch companyh in China.There are more than 60 processing equipments such as lathes, gear hobbing machines, gear grinding machines, and gear shapers. Meanwhile, it has the most professional Gondola research institution in China and obtained more than 20 national patents, and established long-term cooperation relation with many foreign companies. In addition, Hengxiang also has the most professional Suspended Platform design team, with 2 doctors,5 postgraduates, and 60 undergraduates