Aluminium alloy suspended platform ZLP630, as the name implies, the ZLP630 suspended platform is made of high strength aluminium alloy material. Aluminium alloy suspending platform has light weight and high strength, so it is widely used for working at altitude in construct projects.
Aluminium alloy suspended platform ZLP630 specifications
MODEL NUMBER

ZLP630

Rated Capacity(kg)

630

Lifting Speed(m/min)

9-11

Rated Power(KW)

1.5x2

Hoist Model

LTD63

Safety Lock Model

LSA30/LSA20

Dimension of platform

L x W x H(mm)

6000x690x1180

Suspension mechanism weight(kg)

250

Counterweight(kg)

800

Steel Suspension Platform weight(kg)

500

Aluminum Suspension Platform weight(kg)

340
Above parameter is standard specification of our factory, and we could also meet special requirements on voltage, frequency, platform length according to different countries.
Product features & applications
· Made of high strength aluminum alloy
· Easy to install and operate
· Powered by advanced motor system
· A suspended access platform with sufficient capacity to carry huge load.
· Wide range of application, such as maintenance and construction work concerning unapproachable buildings or objects such as huge tanks, ships, dams, etc.
· Customized according to customer requirements
Suspended platform parts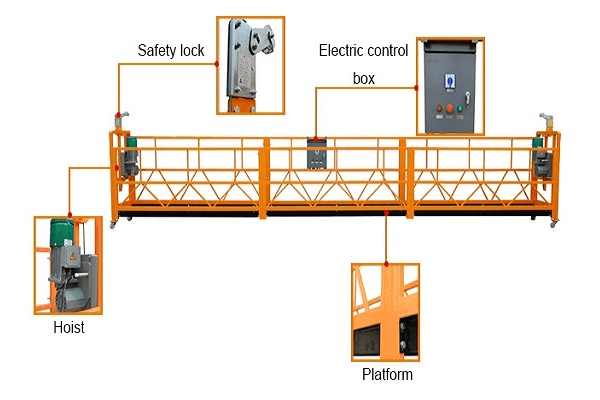 Our products mainly include suspended platform ZLP500, ZLP630, ZLP800, ZLP1000, and hoist, electric control box, safety lock and steel wire rope. All these suspended platform parts have competitive quality and price.
About Hengxiang Engineering Materials Co., LTD.
Hebei Hengxiang Engineering Materials Co., LTD is a leading manufacturer of suspended work platform and scaffolding systems with 11 years of experience. Except for construction gondola lifts, our company also have a wide range of scaffolding products, including mason fram scaffolding, ring-lock scaffolding,
adjustable steel shoring props
, self-climbing scaffolding systems, and related accessories, such as scaffold plank hooks, scaffolding walk boards, casters, etc.
Our products have been exported to many countries all over the world, for instance, India, Vietnam, Philippines, Indonesia, Peru, Singapore, Romania, Armenia, Jamaica, Russia, etc. If you have any purchase plan for our products, please get in touch with our team to get more details and a quotation.