How to set up scaffolding safely? As a construction equipment, Scaffolding provides many advantages. In this scaffolding installation guide, we will show you how to set up scaffolding safely.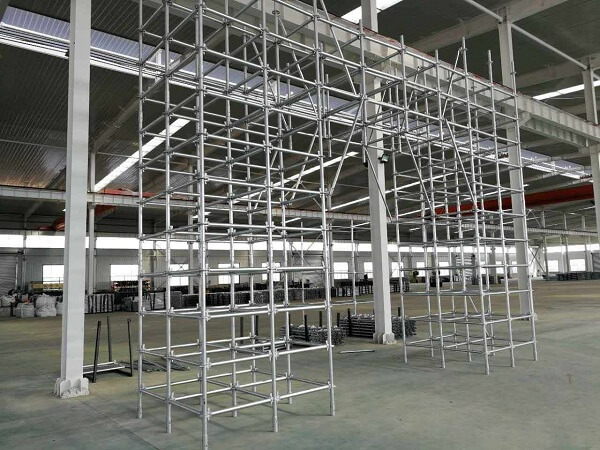 Scaffolding installation
1. Choose suitable scaffolding
There are some types of scaffolding that can be used for different working sites. We provide H frame scaffolding, ring lock scaffolding, and
self climbing scaffolding system
, if you don't know to choose which one for your construction project, welcome to call us or leave a message on our website.
2. Prepare all the parts of the scaffolding
Before starting to assemble the scaffolding system, prepare all the scaffolding parts. For example, the ring lock scaffolding parts are including ledger, diagonal brace-s, standards, U-head, Base jack, connect pin, disc, diagonal end&ledger end&disc.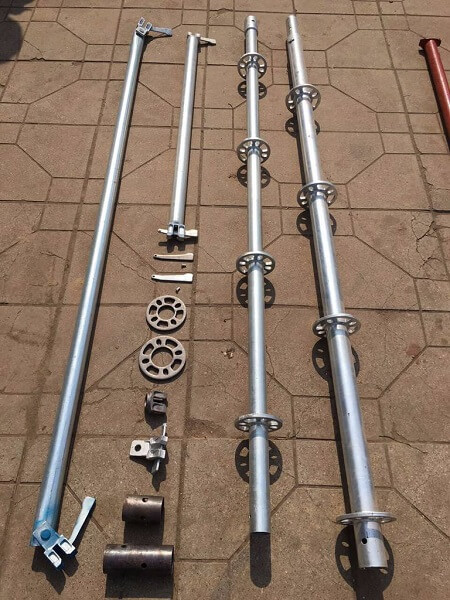 Every component of the scaffolding must be checked over to ensure it is in good working order. If any part of the scaffolding tower is damaged, for our safety and the safety of others nearby, it is important that do not use it. Once you've ensured your scaffolding is safe for operation, check the surrounding area for hazards that could affect you while working, such as overhead power lines. In addition, it's important to only use scaffolding in safe weather conditions.
3. Assemble base frame
If necessary, we need to insert castors into the base frame, then secure them to a frame leg and lock the brakes. This will ensure that the wheels will not move when you are setting up the scaffolding, making the process much easier and a great deal safer.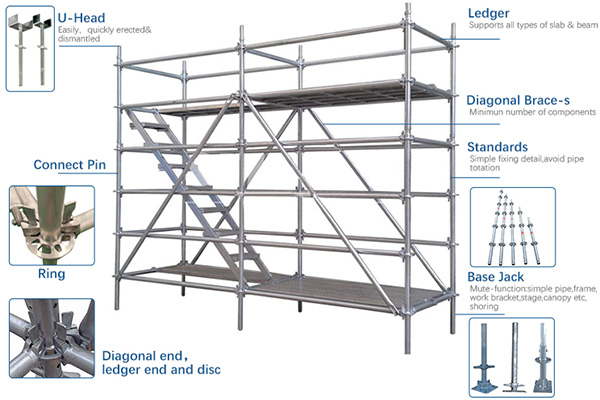 Different scaffold models may have different methods for the assembly, but most scaffolding systems have an open tube that slides over the base of the adjustable screw bar. Secure all base plates or casters with pigtails, toggle pins, or the locking accessory supplied with the scaffolding. According to the height of the scaffolding required, we may need to insert another set of base frames on top of the original base frames.
4. Install planks and guardrails
Irrespective of the height of the scaffolding system, we must have guardrails and planks fitted to prevent anyone working on the scaffolding from falling off as well as objects or tools being knocked off and injuring those below.
We need to lock tubes and clamps in place and build both sides of the scaffolding. After finishing the work above, raise each side and attach the cross braces. Then lower the plank until the ends hook over the frames. Secure the plank with the swivel catches.
5. Ensure scaffolding system is level and stable
To ensure the scaffolding will be stable, we need to use a horizontal leveling tool to check that both the horizontal brace and the brace frames are level. Then we can install a temporary access working platform, by securing the ends to the second rung on both base frames. Install a ladder where required, making sure it is secured at both the top and bottom rung.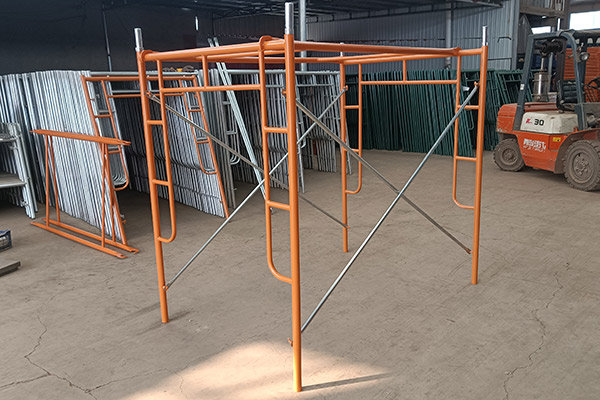 In this installation guide, we just show a brief method of setting up scaffolding. Different scaffolds may have different installation methods. If you don't know how to assemble your scaffolding, just ask your dealer who sells the scaffold to you. And if you buy scaffolding from Hengxiang, we will provide specialized installation guidance and after-sales services.