ZLP series suspended platform provided by Hengxiang, has passed CE certification of ECM on 2021.04.15. Certified products are including ZLP250, ZLP500, ZLP630, ZLP800, and ZLP1000 suspended working platform and related accessories.
Hengxiang Engineering Materials Co., Ltd. is one of leading construction suspended platform manufactures in China. All of the rope suspended platforms are made in strict accordance with industry standards. Our hot-sale gondolas are including ZLP630, ZLP800, and
ZLP1000 suspended platforms
. Our construction gondolas have won high praise from customers.
Recommended reading:
Rope suspended platform manufacturer and supplier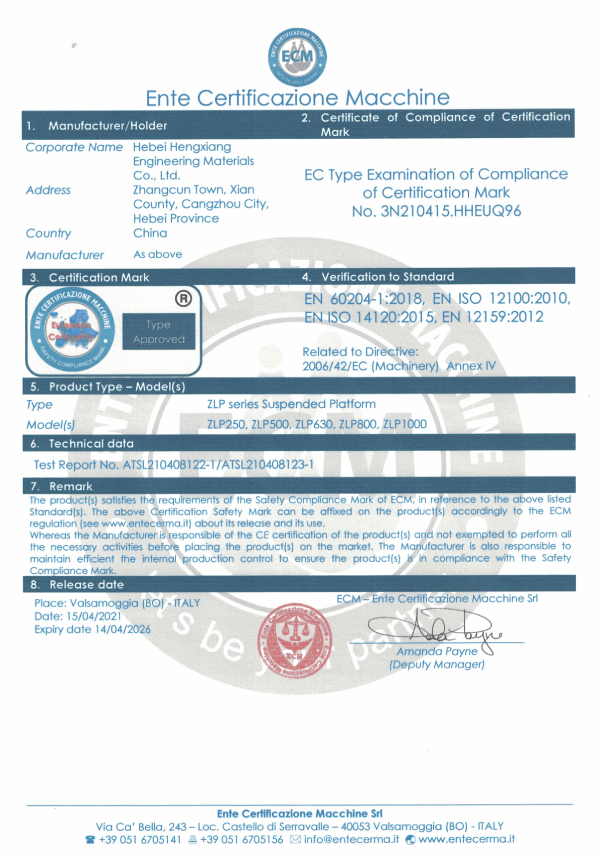 CE certification is the passport for products to enter the Eu market. Many products need CE marking before they are sold in the EU. Obtaining CE certification means that our suspended platform meets EU standards on health, safety and environmental protection.

ECM, full name is Ente Certificazione Macchine, is a famous CE certification body authorized by the European Union. And ECM enjoys a high reputation in the field of European mechanical product certification and elevator machine and parts certification.

At present, Hengxiang ZLP series suspended platform has obtained CE certification. All the suspended platform can be produced in accordance with EU standards.