ZLP800 hanging platform is our most popular suspended platform model. With the help of a hanging platform, it's easy to transport the workers and their tools into the air and complete aerial work at any altitude. Usually, the hanging work platforms are mostly used for cleaning the exterior windows of tall buildings.
Products Application
Our ZLP series suspended platform cradles are used in a wide range of applications, for example, the external wall construction, decoration, cleaning and maintenance of high-rise and multi-storey buildings, elevator installation, large tanks, bridges, dams and other engineering operations.
ZLP800 hanging platform specifications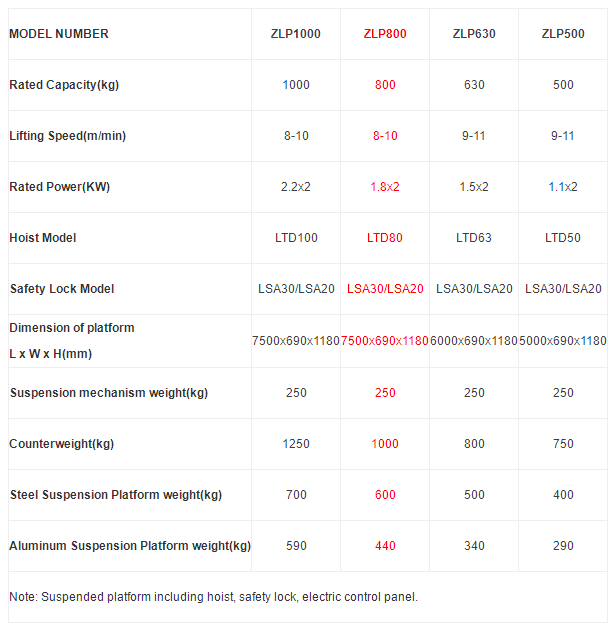 Hengxiang Hanging work platform
Hebei Hengxiang Engineering Material Co., Ltd is one of the leading suspended platform manufacturers in China. Our main products are high altitude electric hanging platforms and related accessories, frame scaffoldings, ring-lock scaffoldings, adjustable steel props, etc.

In addition to ZLP800 hanging platform, the ZLP630 suspended platform and ZLP1000 electric cradle are also our long-lasting product. In order to meet the different needs of customers with different uses, we can also provide customized services for customers.

Our factory has a professional suspended platform research institution, and obtained more than 20 national patents, and established long-term cooperation relation with many foreign companies. Our products are exported to many countries and regions in the world, including India, Russia, Chile, Italy, Mexico, Ukraine and so on.

We also have a professional hanging platform design team to ensure the products quality and safety. Our ZLP series suspended platform and related accessories have obtained ISO9001:2000 & CE certifications. You can always be confident to our products. If you have any purchase plan, please feel free to contact us.